Vanadium battery pack
1 Product Introduction
VRFB battery full name is Vanadium Redox Flow Battery (shorted as VFB), which is a active substance in liquid state redox batter.
1.1 Application
Big Pawer VRFB Battery Division is specialized in vanadium flow battery energy storage system and its key materials research, development, production, sales, related technical service and customized solution, which are widely used in field of power grid peak adjustment, solar photovoltaic systems, backup power, energy storage systems in remote areas, wind energy storage systems, and others.
Main products:Stack, Electrolyte, Battery management system, Energy storage system
1.2 Features
high efficiency
long service life
low cost
Standardization
Safety
Increasing single stack number and electrode area, to enlarge battery power
2. Technical Parameters
2.1 Working Principal
VFB battery separately stores different valence ions into the positive and negative tanks. When charge or discharge, through pump, electrolyte cycles from external tanks into the positive and negative chamber, and reacts oxidation and reduction at the electrode surface at the same time, to achieve the battery charge and discharge.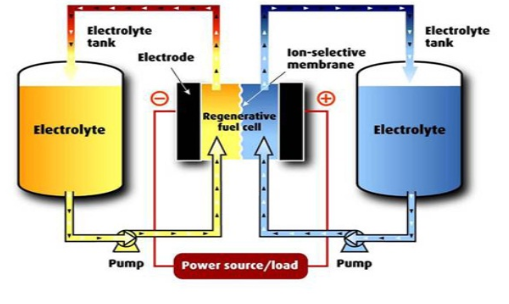 VFB Working Principal
2.2 Main Technical Parameters
Stack is the VFB battery core part. By integrating, series or parallel several stacks together, with electrolyte, then it can integrate larger energy storage system.
Our self-developed stack can meet client varied customized needs, currently finalized models of 1kw / 2kw / 5kw / 10kw / 25kw.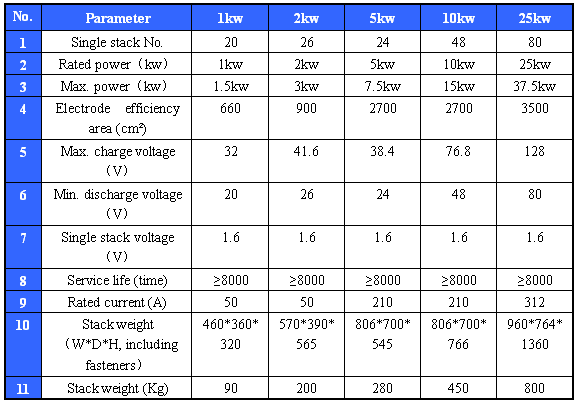 Finalized stack model parameters
Electrolyte is independent, stored in the external tanks, and can be adjusted by different volume, with following advantages:
Self-technology to produce high purity, high activity vanadium electrolyte
Finished 5m3/batch electrolyte production line construction
Customize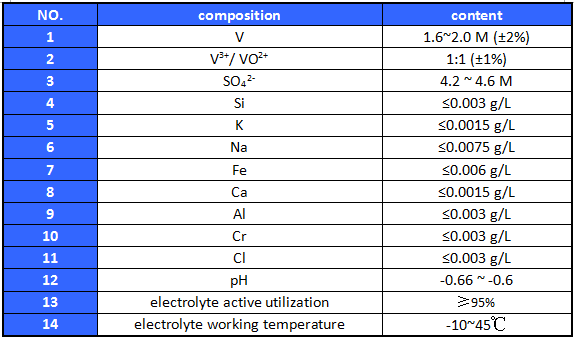 Electrolyte Technical Parameter(1.7mol)
Energy storage system
Vanadium redox flow battery energy storage system is mainly made up of power unit (stack module), energy storage unit (electrolyte and tanks), electrolyte transmission unit (pipelines, valves, pumps etc.) and battery management system (pressure, temperature, level monitor unit, charge and discharge device, and control parts).
Features:
☆ according to different input grid, can flexible adjust capacity and stack
☆ with over-charge protection, avoid system damage
☆ system running real-time monitoring, abnormal alarm
☆ remote monitoring, data query
☆ With a variety of operating modes, user can achieve one-key operation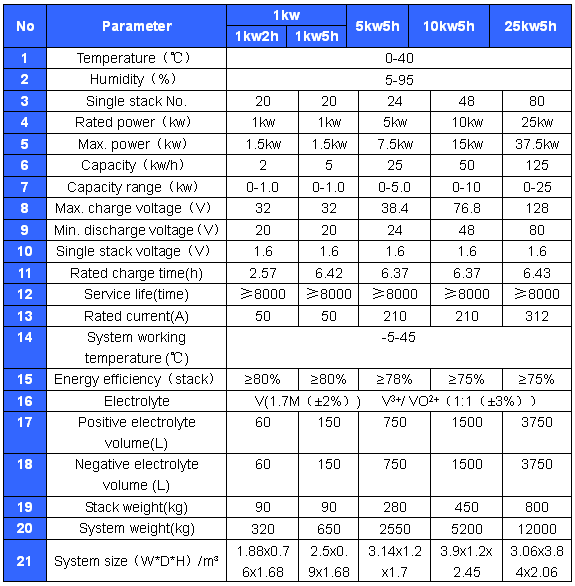 Notice: VFB battery energy storage model can be customized according to specific requirements, while each kwh increase 50-60L electrolyte.
2.3 Working environment
Environment temperature:-10~45℃
2.4 model selection preference
Energy is stored into the electrolyte, so by increasing electrolyte volume or improving density, both can increase capacity. That is, for same power output, the battery system capacity can be adjusted according to any specific requirements.
3. Ordering instructions
A. Needed power and capacity;
B. System input method and load type;
C. Working environment, temperature and installation environment;
D. Other special requirements.
4. Project Case
Big Pawer self-developed vrfb battery energy storage system has 12 project cases both in domestic and world market, among which is exported to India and Singapore with good feedback.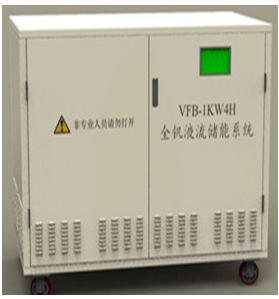 Guangzhou client 1kw4h system – used as developed material evaluation and concept display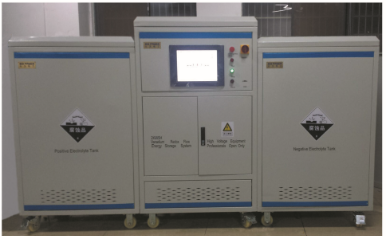 Singapore university 2kw5h system – used as research and concept display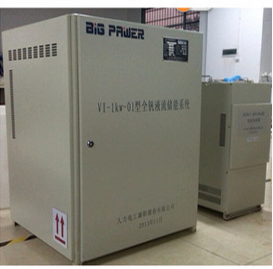 Sichuan client 1kw system – used as client self-produced electrolyte test evaluation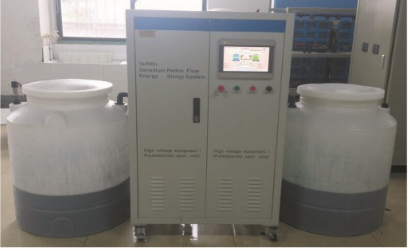 India university 1kw6h system – used as micro-grid research

Hunan client 5kw4h system – used as developed electrolyte long-time evaluation, concept display, plant supported energy storage system for solar-wind energy transfer, and wind-electricity transfer